About the Author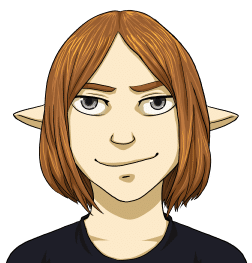 Hello, and welcome to Flowerlark Studios, a collection of art and ongoing webcomics. My name is Lee and I am the one-person team behind almost everything on this site.
A little about myself: I was born on the east coast of the United States, lived in England during my early youth, then moved back to the US, which to this day has given me a random mix of British and American English. I currently live in the backwater blizzard-country of New York. I'm extremely geeky and love all things fantasy. I'm a huge gamer who is especially fond of role-playing video games, and I also enjoy tabletop gaming. I love to read and I devour novels at an alarming rate. Since I love to both write and draw, when I was a young teenager I combined those passions into making comics, and haven't stopped making them since. While I have some formal training in both fine art and essaying, I am self-taught when it comes to sequential art and creative writing.
If you would like to contact me with questions, comments, fanart, etc., please use the field below:

Or you may reach me at:


About the Comics
Though I strive to make each project unique, the stories here on Flowerlark Studios come in two main genres: fantasy and humour. Most of the comics are created digitally in Photoshop, in Clip Studio, traditionally with mechanical pencil, or a combination thereof.
Children of Shadow vol 1: Ashes
Ashes (formerly titled Fawna's Quest) is the story I have been working on the longest. Ashes is the first volume of a planned trilogy, though I'm leaving things open enough to spill into a fourth volume if necessary. It has been redrawn multiple times, but I am now working on the final version. It's an urban fantasy story that delves into darkness within every person, and deals with themes such as mental illness, self-doubt, and what it means to be human. It is drawn mostly by hand in mechanical pencil, then framed, lettered, and touched up digitally.
Easily Amused
Easily Amused was a one-shot humour strip I started in college with my best friend, Reby. Since the strip was originally drawn for a comic paper on our college campus, most of the strips were aimed at that community, using inside jokes and references. Because of this I didn't originally intend to share Easily Amused online, but one time long ago I didn't have enough of a buffer for Ashes (at the time titled Fawna's Quest), so I posted a few of the strips as fillers. I was really amazed by the overwhelming positive response from readers, and so by request gave it its own archive. Strips have since shifted from the misadventures of college to the misadventures of adult life. Easily Amused was originally created in Photoshop, but is now drawn in Clip Studio.
Dark Wings vol 1: Eryl
Dark Wings is the largest of my projects, and is a high fantasy comic that is broken into three volumes, and then split further into several books per volume. It is the most mature of my comics, and though it starts off in a more PG-13 range, it intensifies as it goes- therefore I have given it a solid R-rating. Some of the main themes deal with loss, trauma, and trying to hide what is broken inside. Though Children of Shadow also shares scenes depicting graphic blood and violence, Dark Wings is the only of my stories so far that includes or will include strong language, nudity, and sexual themes. It is drawn digitally using both Photoshop and Clip Studio.
No More Save Points!
No More Save Points! is a one-shot humour strip poking fun at some of the video games I've played. It was until quite recently titled Epic Fail!, but due to the overuse of the phrase since I began that comic in 2008, it has been changed to No More Save Points!. It's not really a running comic so much as its archives are a dumping ground for video game gag comics whenever I feel like doing them, so it does not update very often. The style of the art varies greatly, and is drawn in Photoshop and Clip Studio.
Laiyu
This has yet to start, but it is an experiment I'm conducting in the creation of a visual story that bridges between novel and comic. It's a science fiction/ high fantasy about how we define who and what we are. It will be written in prose that is then heavily illustrated and set into comic-like pages. It will also update like a webcomic, one page at a time. So far I'm using its archive to share concept images and progress shots to give the readers some input early on in the process. The illustrations are drawn with mechanical pencil, then coloured in Photoshop.
FAQ
Q: Can you make a tutorial on how to draw ___?
A: I have made several tutorials in the past, and they have a page on Flowerlark Studios. They are all fairly outdated, so please feel free to request any new tutorials you'd like to see. I can't guarantee I'll have time to make them, but asking never hurts!
Q: Can you draw a ____ for me?
A: Sorry, but I don't take requests. I have very little free time not taken up by my own projects, and when I do do gift art, I make it for friends. Art takes a lot of time, thought, and energy, and I do not do it for free unless it's a gift for someone I care about. If you would like me to draw something for you, you are welcome to commission me for it.
Q: Can I use your art in a project of mine?
A: That depends on what it is and what it's for. Ask me first – I'll say yes for certain things, so long as due credit is given.
Q: Is ___ going to happen in the comic?
A: I can't tell you that!!
Q: Can I have a cameo in Easily Amused or No More Save Points?
A: I am afraid only people I know in person can make it into these strips, and many of my friends still have yet to appear. Ideas for these come to me pretty randomly, and it's not something I can do on demand. There are already many people in my life who want to be in a comic, but I can't translate funny things we've done into decent punchlines.
Q: Why do you draw yourself with fangs and pointy ears? Are you supposed to be a vampire?
A: I'm supposed to be an elf. The look just suits my personality.
Q: Is it okay if I do some fanart?
A: Absolutely! It doesn't matter if you think you can't draw well, I adore all gift art, so please share with me! I do, however, discourage fanfiction, and ask that you do not post or publish any based on my stories. I'm sorry- I know it seems strange that I'm okay with one and not the other, but I have personal reasons that make me uncomfortable with fictions.