About the Author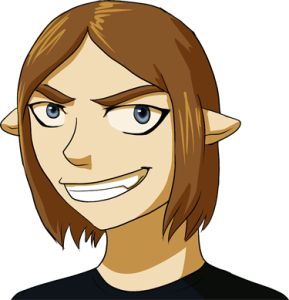 Hello, and welcome to Flowerlark Studios, a collection of art and ongoing webcomics. My name is Lee and I am the one-woman team behind almost everything on this site.
A little about myself: I was born in America in 1987, lived in England during my early youth, then moved back to America. I currently live in the backwaters of New York.
I'm extremely geeky and love all things fantasy. I'm a huge gamer who is especially fond of role-playing video games. I also do some tabletop gaming. I love to read and I devour novels at an alarming rate.
I have always loved animals and learning about them. I am deeply interested in science – especially entomology – and was originally going to go to college to eventually become a lepidopterist. Now I have two years as an art major under my belt instead. My biggest dream is to be able to return to college and earn my bachelors degree, whether it be in art, biology, or something else – I am not sure at the moment.
Favourite Animals– Foxes, Squirrels, Ravens, Bees, & Piranhas.
Favourite Foods– Fried Eggs, Raspberries, & Coffee
Favourite Video Games– The Legend of Zelda, Rune Factory, Okami, Pokémon, Harvest Moon, Final Fantasy, Fantasy Life, & the 'Tales of' Series.
Favourite Books– The Mistmantle Chronicles, Howl's Moving Castle, The Moor Child, Hunter's Moon: A Tale of Foxes, The Lord of the Rings, Wings of Fire, Harry Potter, The Guardians of Ga'Hoole & many classics, especially those by Robert Louis Stevenson and G. K. Chesterton.
Favourite Mangas– Fullmetal Alchemist, Gon, Tegami Bachi, Kekkaishi & Runrouni Kenshin.
Favourite Animes– Black Cat, Samurai X, Trigun, Black Butler, Bleach, & Kekkaishi.
If you would like to contact me with questions, comments, fanart, etc., please use the field below:

Or you may reach me at:


*
About the Comics
All my comics have a long history, but since all that would fill a novel, I'll keep to the technical specs.
Children of Shadow vol 1: Ashes
Ashes (formerly titled Fawna's Quest) is drawn on 9×12 smooth bristol with mechanical pencil. It is then scanned into Photoshop at 300dpi where the frame, lettering, and a few filters and touch-ups are added. The series will be 3 or 4 volumes long. The first volume – Ashes – and the second volume – Endless Rain – are completely planned out, with only some minor details to work out. The third volume – Broken World – is mostly planned out, though I'm leaving things a little open in case I want to change stuff and spill the story over into a fourth volume, very tentatively titled Demon Heart.
Easily Amused
Most of Easily Amused was drawn in Photoshop, though the last few strips were drawn in Manga Studio. This comic was originally for my college's comic page, so most of the jokes are geared towards students of that community. Much of it (especially at the beginning) is co-authored by my best friend, Reby. The strip is based on the misadventures that Reby and I had in college, and now in navigating adult life.
Dark Wings vol 1: Eryl
Eryl is sketched, inked, and flatted in Manga Studio, then painted and lettered in photoshop. The pages are worked at 600dpi. Older pages were 300dpi and completely done in photoshop. I am going to very slowly redraw all the older pages (the prologue and chapter 1). All of Eryl is planned out. The second volume (which has yet to be named) is relatively planned, and the third is still vague in my head. Each volume is very long, as the story was originally to be a meaty trilogy of fantasy novels. I'm not entirely sure why I started doing it as a comic instead. I suppose I'm just that masochistic.
No More Save Points!
This comic was, until quite recently, titled Epic Fail! but due to the overuse of the phrase since I began that comic in 2008, I have changed it. It's not really a running webcomic so much as its archives are a dumping ground for video game gag comics whenever I feel like doing them. Therefore it does not update very often. Originally the strips were done in Photoshop, but now they are done in Manga Studio.
Laiyu
This has yet to start, but it is an experiment I'm conducting. It will be a sci-fi / fantasy novel that is heavily illustrated and set into comic-like pages. It will also update like a webcomic, one page at a time. So far I'm using its archive to share concept images and progress shots to give the readers some input early on in the process. The illustrations are drawn with mechanical pencil on pen sketch paper, then coloured in photoshop.
*
FAQ
Q: Can you make a tutorial on how to draw ___?
A: I do occasionally make tutorials, and they have a section all their own here on FL Studios. They are time consuming to make, so I don't do them often. However, feel free to request a particular tutorial, and if enough people ask for the same thing, I'll feel pressured into making it for you. Don't be afraid to ask- I like it when people request tutorials.
Q: Can you draw a ____ for me?
A: Sorry, but I don't take requests. I have very little free time not taken up by my own projects, and when I do do gift art, I make it for friends. Art takes a lot of time, thought, and energy, and I do not do it for free unless it's a gift for someone I care about. If you would like me to draw something for you, you are welcome to commission me for it.
Q: Can I use your art in a project of mine?
A: That depends on what it is and what it's for. Ask me first – I'll say yes for certain things, so long as due credit is given.
Q: Is ___ going to happen in the comic?
A: I can't tell you that!!
Q: Can I have a cameo in Easily Amused or No More Save Points?
A: That is dependent upon two factors: 1- If I know you. 2- If something humorous happens to you. Even then I can't always make a comic about it if I can't think of a way to translate it into a punchline.
Q: Why do you draw yourself with fangs and pointy ears? Are you supposed to be a vampire?
A: I'm supposed to be an elf. The look just suits my personality.
Q: Is it okay if I do some fanart?
A: Absolutely! Somehow, people think I don't like fanart. Quite the opposite- it's the highest compliment you can pay me! It doesn't matter if you can't draw well, I adore all gift art, so please share with me!