Soooo, quite a while ago (like… a year ago) I took on some Pokémon sculpture requests where I would make the Pokémon that the first few people asked for. I cut it off at 7 because that seemed a reasonable and entirely manageable amount. I got the first three done in fairly short order…
But the remaining four sat on my to-do list for quite some time (honestly, I had just forgotten all about them for months and months).
BUT NOW I HAVE REMEMBERED WITH A VENGEANCE.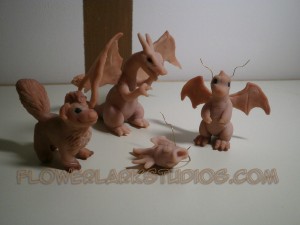 I'll be painting them starting tomorrow, and my goal is to have them finished by the end of the week.
THIS ANNOUNCEMENT BROUGHT TO YOU BY FORGETFUL ANGSTY SQUIRREL ARTIST.